With winter on the horizon, I think it's fair to say that our summer glow is on the way out..
Which is why the new Amber Solaire range by Garnier is the perfect winter routine for glowy golden skin!
The range contains three products, each enriched with natural skingredients to give you an expert streak free tan.
Natural Bronzer Self-Tan Lotion
This nourishing golden tan acts as an everyday gradual tan which can last up to one week or maintained as a constant bronzer with regular use.
The product boasts a beautiful gradual tan while intensely hydrating through Vitamin E and apricot oil. Apricot oil is high in linoleic acid and oleic acid, which helps to strengthen the skin's barrier while softening, giving a satin feel.
The product is quick drying, providing up to 8 hours of silky moisturized skin.
As the product is buildable, it's perfect product to apply after your evening shower, to wake up with a kissable bronzed glow!
Natural Bronzer Self Tan Mousse
The mouse is perfect for those who prefer a quick drying, water based transparent tan. The mousse is coconut water and glycerin based, which results in a light weight streak free product.
The mousse is non sticky and completely clear, preventing any unwanted transfer to bed sheets or clothes!
After just one hour, skin will feel hydrated and bronzed, with the colour lasting up to one week.
The coconut water in this formula is not only extremely hydrating but the scent makes it feel as though you're basking in a tropical climate, which is something we all need for the winter blues!
Natural Bronzer Self Tan Face Drops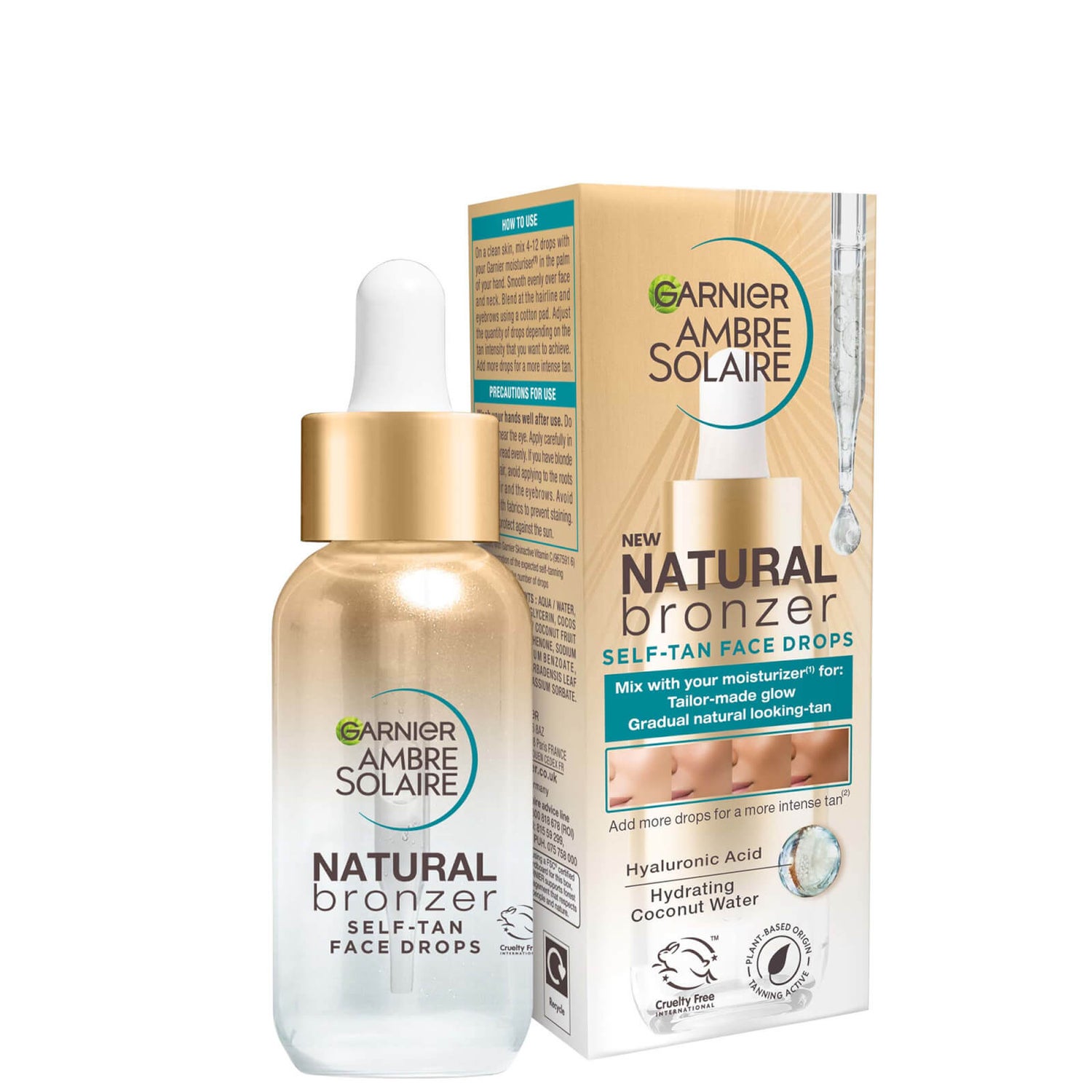 Winter is coming and sometimes we just need a golden glow from the neck up, right?
Well say hello to your new favourite step in your skincare routine! Formulated with hyaluronic acid, these tanning drops were created to boost your moisturiser, for a tailor made golden tan .
Enriched with hyaluronic acid and moisturising coconut water,  the natural self tan face drops deliver a customised gradual tan. Streak free, natural-healthy glow that helps to hydrate and smooth your skin.
Mix with your moisturiser to build your tailor-made glow:
• 1-4 drops: sun-kissed tan
• 4-8 drops: golden tan
• 8-12 drops: bronze tan
Skin is immediately hydrated while your colour develops into a sunkissed radiant glow!
Garnier is going green! with a commitment to sustainable green products, Garnier now uses more recycled materials and renewable energy when creating and packing each product!
All products mentioned are available from Boots stores nationwide.