If you're searching for a night time skin routine, or are simply unsure of which products to use before bed, I present to you the perfect nighttime skin rejuvenating set by Khiels.
The Midnight Recovery line was created to heal and rejuvenate the skin as you sleep. Leaving you feeling refreshed and supple by morning.
The Midnight Recovery Botanical Cleansing Oil, is Khiels's first lightweight essential oil cleanser. The cleanser is made from a range of botanical oils and fatty acids to cleanse and soothe skin in the proccess. This cleansing oil melts away dirt and impurities, transforming to milky consistency when massaged into the skin. The non comedogenic formula can be used on sensitive skin, as it works to cleanse without drying.
The cleanser is packed full of luxury skin healing ingredient such as:
Evening primrose – the linoleic acid present helps to retain hydration and minimise water loss.
Squalane –  this lightweight alternative to heavy oils, Squalane acts as a natural skin barrier, preventing the penetration of free radicals & acting as a natural antiagent
Lavender – acts as an anti-inflammatory on skin, helping to soothe breakouts or acne scars, brightening skin whilst the scent makes you drift off to dreamland!
This cleanser:
Effectively dissolves dirt, oil and even hard to remove makeup
Leaves skin feeling soft, supple and replenished
Soothes and comforts skin and prepares it for nighttime replenishment
Non-comedogenic
Ophthalmologist-tested
Midnight Recovery Concentrate is the nighttime recovery oil for all skin types. The lightweight face oil acts as a replenishing elixir of pure essential oils and botanicals, to reveal radiant skin by morning!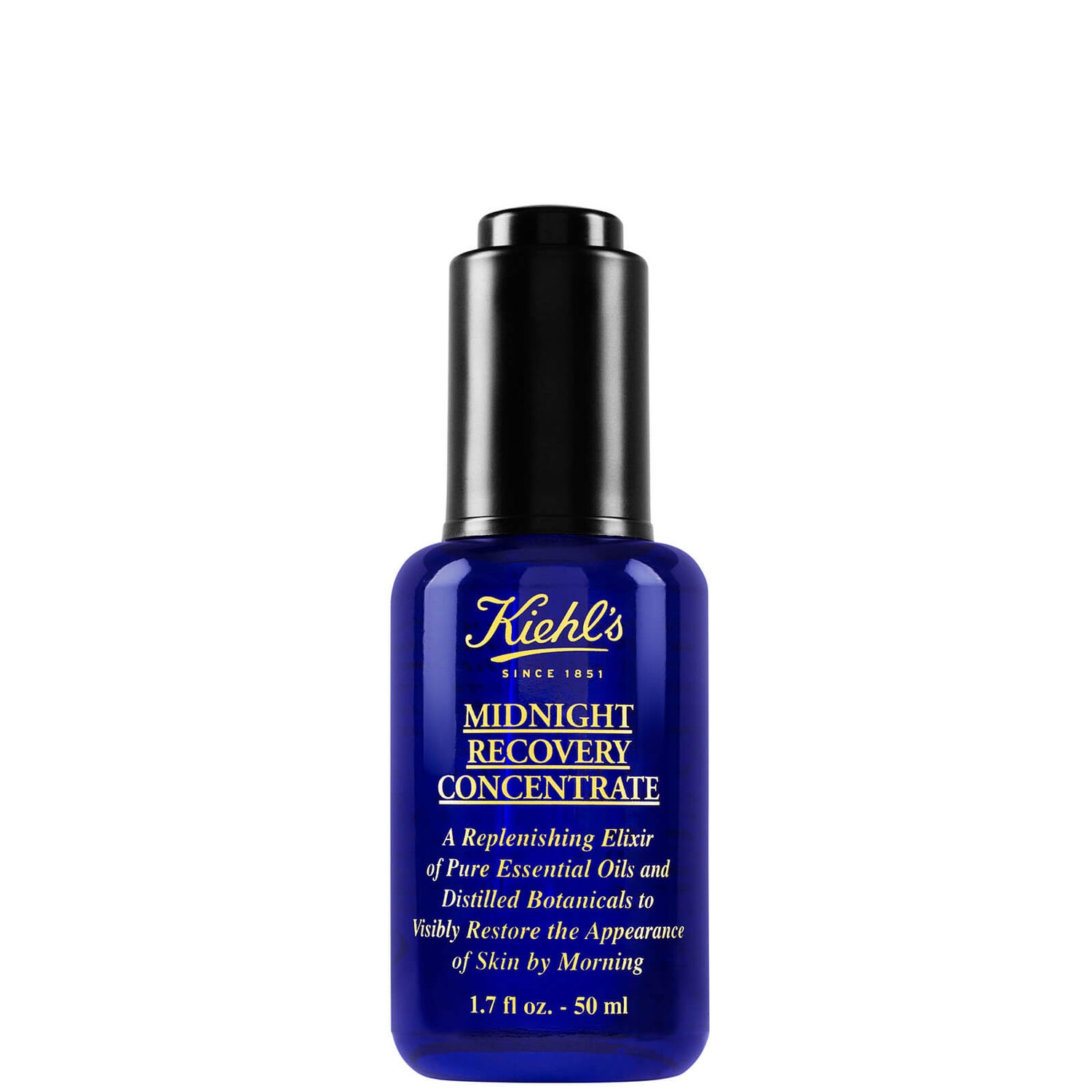 Formulated with the same magic ingredients as the cleansing oil, all you need to do is two drops into freshly cleansed skin each night and viola! your very own fountain of youth.
The face oil:
Visibly reduces fine lines, refines skin's texture and boosts radiance in just one night
Helps smooth and firm skin's appearance
Acts on the key visible signs of aging linked to the loss of collagen: fine lines, wrinkles, elasticity and firmness, while visibly reducing the appearance of dark spots
Boosts essential moisture to help restore the appearance of tired-looking skin
Replenishes skin at night when it is most receptive to repairing itself from daily aggressors
Absorbs easily with a lightweight texture
Leaves skin soft, supple and hydrated
Made with recyclable packaging
Paraben & alcohol free
The Midnight Recovery Omega Rich Cloud Cream is made to plump the skin as you sleep, replenishing the skin's lipid barrier. The cream is lightweight and derived from 98% natural ingredients. The cream is infused with Omega 3 & 6 Fatty acids alongside a blend of botanicals which penetrate the skin, delivering radiance.
The cream:
Our botanical night cream visibly plumps your skin in 7 nights
Helps bring suppleness, radiance and nourishment to the skin by morning
Provides lasting, overnight moisture for smooth, plump and radiant skin
Helps replenish and strengthen your skin's lipid barrier
Absorbs easily with a lightweight, whipped and cloud-like texture
For all skin types, including dry
This is the routine of dreams! (literally while you're dreaming) to wake up to a beautiful, supple and youthful reflection each morning.
All products mentioned are available at Khiel's stockists nationwide.